Vedic Mathematics for Young Learners
Course Duration 18 hours / 12 Lessons: From 22 May until 7 August 2021
Trainers Full Name: Arun Kumar Singh
Trainer Certifications: Certified Vedic Mathematics Expert
Course Title: Basic Plus Vedic Mathematics Training Program
Age Groups: 8 – 14 years
Course Description: Brief about the course (This Course comprises of addition, subtraction, multiplication and division using Vedic Mathematics sutras and subsutras. This course is based on principles and there is no exception to these principles. These principles have evidence in ancient India Vedas especially the Fourth Vedas, The Atharva Veda. In modern times, it was rewritten for common people by One of the great scholar, Swami Bharti Krishna Tirathaji Maharaj. It enhances our mathematical calculation speed up to 10-15 times with 100% accuracy. It also enhances our mental agility and Intelligence. This course is ideal for students from grade 2 to 12. It will help them improve their mathematical skills and overall performance in other subjects.
Learning Outcomes: Calculation Speed enhancement with Speed and Accuracy, Enhancement of Mental Agility and Intelligence.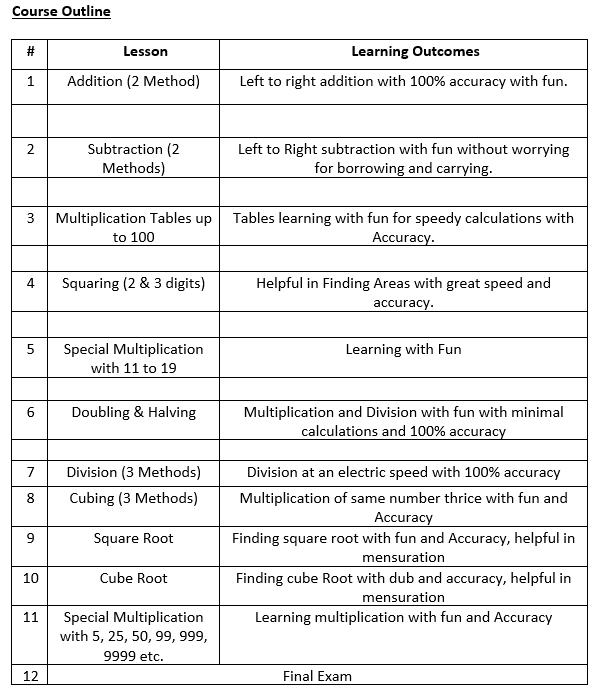 Math Course Schedule
Duration: #12 lessons / 18 hours + Final Exam
Hours: 18 hours in total (Session = 1.5 hours)
Schedule (Once per Week): Check table
Course Starting Date: 22 May 2021
End Date: 7th August 2021 (Written Test on Final Day)
Timing: Saturday (10:00am to 11:30am CET )

Course Fees
Course Fees ($): USD $150 for # 12 lessons per 1 student
The package includes:

Online Live Instructed-led Training (1.5 hours/lesson, 18 hours total)
Self-Study with Video-Assisted Learning (Practical exercises take 18 hours)
Training Mode
Class Size: Maximum of 10 students in a class
End of Course Certificates: Yes

A completion certificate will be issued by Success Maximized, New Delhi and VYEC
Meet the required standard to take Vedic Mathematics Training Program
The design of passing guarantee is to reduce the pressure on students to take the exam and engage students to concentrate on class.
If students fail the Final Exam in the first attempt, they may apply to retake the exam for FREE once if they meet all three prerequisites below:

Have an attendance of 90% or above
Completed the mock exam with a result of 90% or above
Apply for a retake within a month after completing the course
Registration and payment