Course Description
Scratch: 
Through the course, students focus on the crucial coding concepts and develop computational thinking, creativity and problem-solving skills. *The course is adaptive to students' levels and is customized to the learning path of every student.
Python: 
Python by far is the most popular language as of now. Its applications include Data Science, Machine Learning, AI, Web development and many others. Introduction to computer programming with Python Implement sequencing, variables, selection, Boolean, etc. Create mini projects [rock paper scissor game].
Game Development:   
Who doesn't like to play games? Imagine the excitement when young kids can create their own creative games! This course teaches the students the complete game development cycle, and a series of guided projects to allow the students to understand the capabilities. This is followed by the students developing their own creative games.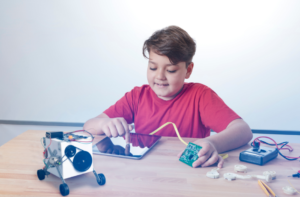 3D Designing:
Tinkercad is a free, online 3D modeling program that runs in a web browser, known for its simplicity and ease of use. Since it became available in 2011 it has become a popular platform for creating models for 3D printing as well as an entry-level introduction to constructive solid geometry in schools.

Mobile Application Development:
Students learn the core concepts of how mobile applications function and create their own, through the MIT App Inventor platform. They create numerous applications, integrating different components of the device, and work towards solving real-world challenges using
technology.

Advanced Math: 
A set of mathematics courses that is designed with the student's individual requirements in mind including UKMT, AMC, Gauss, Pascal competitions preparation IB/ GCSE/ CBSE mathematics preparation.